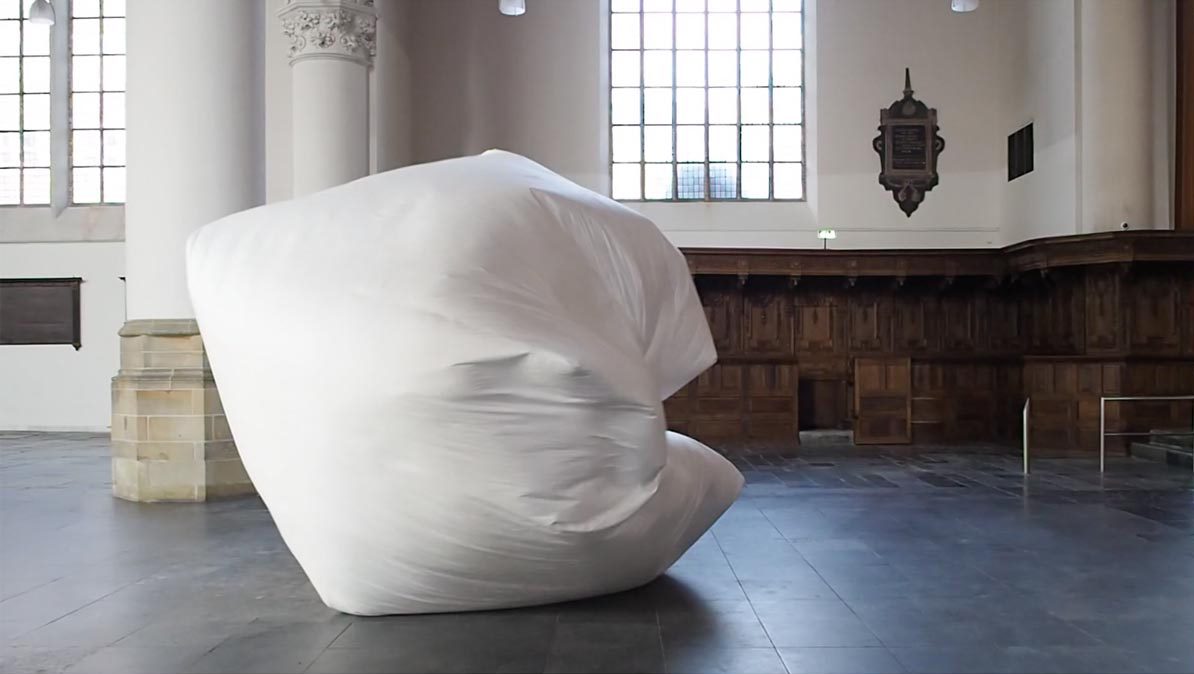 BLAAS
In 2013 Cocky Eek created together with Boukje Schweigman, Ibelisse Guardia Ferragutti and Jochem van Tol the timeless piece BLAAS, which is still on the roll and called by the audience and press as wonderous, dazzling and life-affirming. Blaas is a production of Schweigman&
credits // concept Boukje Schweigman, Cocky Eek en Ibelisse Guardia Ferragutti / regie en spel Boukje Schweigman en Ibelisse Guardia Ferragutti / spatial/stage design Cocky Eek / music and composition Jochem van Tol.

about BLAAS
Blaas plays with the space around us, it plays with the inside and outside world. Where does our inner world stop and where does the outside world begin? There is continuous interaction between ourselves and our environment. Outside is inside and inside is outside. The question 'where am I' is therefore perhaps more important than the question
'who am I'.
Playing with the boundaries of physical space, this wordless piece of visual theater creates a mysterious and disorientating world for the spectator – offering a new perspective on everyday reality.
"Beginning as a fashion designer, Cocky Eek's designs for the body grew into architectural works. Her designs and their carrier together form a new entity that transcends the human dimension"
Boukje Schweigman: "When I saw Cocky's work, I immediately felt a kinship, which, like me, examines how the human body relates to the space around it, disorienting its works, appealing to the imagination, evoking a physical response and asking questions about how and where I am going in this wonderful world."
playlist
Oerol, 15- 23 June 2013, Terschelling, NL
Teatro a Corte, 5-7 Juli 2013, Torino, IT
Boulevard, 1-10 Augustes 2013, 'sHerthogenbosch, NL
Fort aan de Klop, 4-22 September 2013 Utrecht, NL
HEMbrug, 1- 30 Juni 2014, Zaandam, NL
Fort aan de Klop, 24 sept – 12 Oktober 2014, Utrecht, NL
Grote Kerk, Blaas (solo) , 16 March 2016, Den Haag, NL
Fadjr Festival 34e edition, 24-28 Jan 2017, Teheran, Iran
Brighton Festival, 17 -19 may 2018, Brighton, UK
Adelaide Festival, 2-10 March 2019, Adelaide, Australia
---
Printed Reviews about BLAAS
'Schweigman& always tries to take the audience along on physical / mental boundaries. In BLAAS it is actually about the border between a spatial inside and outside, on an interpersonal level across the border between the self and the other. In both dimensions BLAAS produces, with minimal means, no less than a miracle '. De Morgen, Evelynne Coussens, 1 Aug 2013
'In the equally pleasant and frightening space that Schweigman& blows life through movement, light and sound, the imagination of the spectator is working overtime.' Trouw *****, Robbert van Heuven, 3 August 2013.
-'Blaas verwart,ontroert, duizelt en verbuft/ Schweigman's dreamworld…confuses and moves you, dazzles and stuns' NRC handelsblad ***** Herien Wensink, 7 aug 2013
-'Magistrale trip door een wit landschap/ A magisterial, magical trip through a white landscape' Parool *****, Simon van den Berg, 5 juni 2014
– 'Schweigman& breathes new life into the Oerol theme '. Theaterkrant ***** , Hans Smit, July 29, 2013
– 'This piece is the star of Brighton Festival and like nothing else I've seen' WhatonsStage ***** , Bella Todd, 18may 2018, Brighton
– 'Just seen THE most amazing show @brightfest. Mesmerising, beautiful, shocking, original, spiritual, ultimately life-affirming. Feel like I've been given a gift. Still got a lump in my throat. WOW! "Blaas" has blown me away.' on Twitter, 18 may 2018
– 'This is a transcendent experience that will continue to resonate with audiences long after they have left and should not be missed.' The Pop Chronicles ***** 4 March 2019, Adelaide
online reviews
---
Since 2013 Cocky Eek collaborates with the wonderfull group SCHWEIGMAN& known for their poetic, non verbal, theatrical pieces in which the physical body in space always forms a departure of the work. Together they created the pieces BLAAS (2013), ERF (2014) and CURVE (2015) and LANDING SITES (2017)